Polyethylene (PE) rope is produced using raw materials and high-quality grades, which are also known as fishing rope. This rope is a type of plastic rope that is used in various industries including fishing industry, agricultural industry, packaging industry and transportation industry. Stay with us to check the specifications and how to buy and the price of polyethylene (PE) rope.
What is HDPE?
Among the most widely used and important polymers in the world, which are produced in large quantities every day, we can mention polyethylenes. Polyethylene is one of the types of thermoplastic polymers and is able to turn into a liquid when it reaches the melting temperature and into a solid when it reaches the freezing temperature. This polymer is divided into two categories: light polyethylene and heavy polyethylene. Polyethylenes are widely used in various industries due to their wide spread and variety. Among these applications, we can mention the production of plastic kitchen utensils, plastic pipes, plumbing fittings and rope production. Also, this polymer is widely used in the food industry due to its non-toxicity.
Specifications of HDPE rope
This rope is placed in the category of artificial ropes. Among the characteristics of this type of rope, it can be mentioned that it is anti-radiation and resistant to ultraviolet rays. Mechanical strength, high abrasion durability, light weight and therefore easy handling, non-perishability and resistance to salts in sea water are only part of the characteristics of polyethylene rope. The following are the advantages of polyethylene rope:
Resistance to spoilage
Various colors
Anti-humidity and no water absorption
The ability to float
low weight
Mechanical strength and resistance
Resistance to salts in seas
High wear strength and durability
Polyethylene ropes are widely used in cases such as packaging, tensile strength in heavy packaging, home use, tent restraint, fishing industry, well drilling, construction, military, transportation and other industries.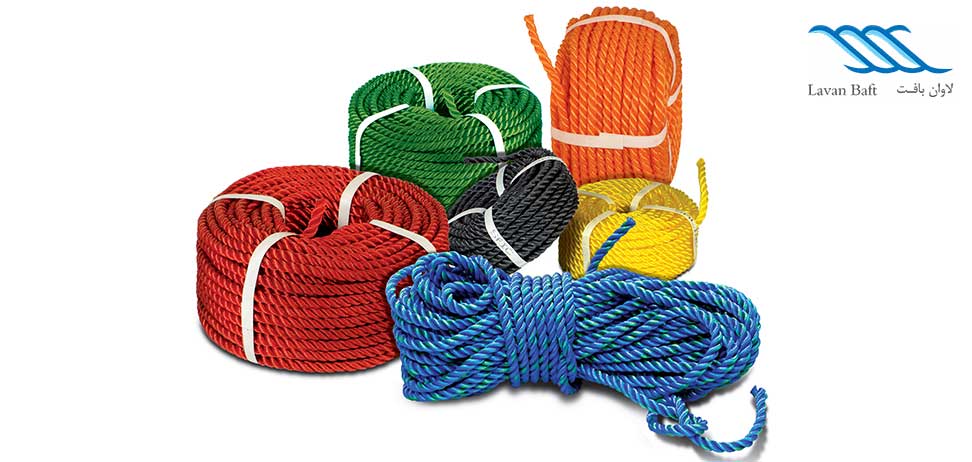 Features of HDPE rope
Polyethylene ropes of Lavan Baft company do not stretch and rot or fray during the time of use, unlike other ropes in the market due to the use of high-quality materials. In addition, due to the materials used in its production, it has a very soft texture and does not harm the skin of your hands and is easily tied. These high-quality and popular ropes among the industries have other positive features such as non-absorption of water, buoyancy, resistance to ultraviolet rays and sunlight, and a variety of colors. The raw materials of Lavan Woven company's polyethylene ropes are procured directly from the commodity exchange and in large quantities, and because they are first-hand, they are of high quality and do not contain any waste materials in their compositions. These ropes are often produced in 3 to 4 strands and are delivered to the customer with beautiful and elegant packaging.
Application of HDPE rope
Among the uses of polyethylene rope, we can mention the use in peat weaving and ground transportation. In land and road transportation, these ropes are generally used to stabilize loads and cargoes due to their mechanical strength and durability. In addition, polyethylene rope can be used in the oil industry, petrochemical industry, food packaging, fisheries and household uses. These ropes are among the most popular ropes among fishermen and manufacturers of fishing nets. Because in addition to being highly resistant to the salts in sea water and does not rot, it does not absorb water and does not become heavy. It also has the ability to remain floating on water and resist ultraviolet rays and sunlight and not be destroyed.
"One of the most important things that can be very important in some packaging; It is a rope, which keeps the products together in an orderly and strong manner. Polyethylene rope is a type of rope that has its own applicants. PE ropes are very practical. The material of this product is very resistant, the purchase price of polyethylene (PE) rope is very reasonable and affordable compared to its performance."
The price of HDPE rope
Lavan Baft company has more than a quarter of a century of experience in the field of production and export of all kinds of ropes, especially polyethylene ropes and plastic yarns. One of the most popular and high-quality products of this company is polyethylene rope. The sale of high quality polyethylene rope using the best raw materials is done by Lavan Baft company and you can order the products you need from our company. Unfortunately, this product does not have a fixed price and its price is determined by the influence of raw materials and changes in the dollar. For this reason, it is not possible to sell online through this website. However, you can contact the numbers on our site to find out how to buy and inquire about the price of polyethylene (PE) rope and place your order.
Buy HDPE rope
Polyethylene ropes of Lavan Baft company are prepared and produced using the best raw materials and with the help of modern machines. These ropes are offered to the market and customers in two brands, Moj and Salik, and they can last more than ten years in harsh conditions such as sea water without suffering any damage. This rope produces ropes that are gram per meter according to the standards of Iran and this value is the same throughout the entire length of the rope and will not change in any way either at the beginning or at the end. This product is in line with Iran's standards in terms of the amount of twist and has the same amount of twist and suitable diameter throughout the length of the rope. Also, a label is placed on the packaging of these ropes, on which all the required specifications of these ropes are written. To order and buy PP rope, call 00982188040765 and 00982188219612.