If you are looking for a rope that has a lot of variety in different industries and general uses, polypropylene rope or PP rope is the best option. This rope is a type of plastic rope that, due to its high strength and unique features, can be used in agriculture, shipbuilding and other industries in addition to general uses. In the construction of this rope, polypropylene materials are used, which, in addition to their high quality and strength, float on water. PP rope is widely used in various industries, especially in the fishing industry.
Why use polypropylene rope?
Polypropylene is a synthetic polymer that is produced by petrochemicals and from oil. This is a very special polymer material that becomes liquid when heated and becomes hard like glass when cooled. A kind of synthetic fiber is produced from this raw material and it is used in the production of polypropylene rope. This polymer has special physical and chemical properties. Compared to polyethylene, polypropylene is very different in terms of properties and has more special applications than it. Due to the fact that this polymer has more resistance than polyethylene, ropes produced with this polymer are used for heavy work. Marine polymer ropes show high resistance against acidic substances. Polypropylene used in marine ropes melts at 170 degrees Celsius.
Types of polypropylene rope based on the strand
PP rope or polypropylene rope is very light and does not sink in water. This type of rope can be produced in two types, three strands and eight strands, and it is also known as marine rope. The three-strand rope is usually used for tying vessels to the wharf, tying cargo to the deck, moving the ship from the anchorage to the wharf, building stairs and rope bridges, in ships, tying ships to each other, and fishing units. Polypropylene eight-strand braided rope is also mainly used in the shipping industry.
Characteristics of polypropylene rope (PP rope)
The unique features of PP rope have increased its use for various purposes. The preparation of this rope requires a special process to process raw materials and produce this unique product. Non-absorption of water is the most important feature of this product, which makes you feel at ease about the non-penetration of water into its fabric. This rope has high wear resistance and can be used in special conditions where there is a lot of erosion and a lot of pressure on the rope. Staying submerged in water is a good feature, along with being waterproof, it allows this product to stay on the water when you need it, which makes PP rope a good choice for many of these tasks.
There are factories and laboratories and environments where there is a lot of acid or alkali, but don't worry; This rope is resistant to acid and alkali. The result is that pp rope has anti-ultraviolet radiation (Anti UV) materials, which is a good choice for both its resistance to the sun and the conditions in which the environment is radiating. Due to the use of high-quality materials, PP rope is not harmful to human health and you can use it safely. Some features of polypropylene rope (P.P rope) at a glance:
No water absorption
High durability
Less weight
Immersion in water
Resistance to acid and alkali
Contains anti-ultraviolet rays (Anti UV)
Using high-quality raw materials that are not harmful to human health.
Characteristics of polypropylene (PP) rope
This rope is made in different sizes and weights so you can get the right type depending on your needs. The thickness of this rope varies from 2 to 44 mm. The circumference of this rope is classified from 0.25 to 5.5 inches. The smallest type of this rope weighs 0.38 kg per 200 mm and the largest weighs 175 kg per 200 mm. The next index called MBL shows how much force the rope can withstand before breaking. This index varies from 0.8 to 243 kilonewtons. In the guide table below, you can see the specifications of 8-strand polypropylene braided ropes.
The effect of additives on pp rope
Additives, for example, reinforcement, are added to raw materials and change some properties of the desired material. The use of strengthening agents in the raw materials of this rope improves the thermal and mechanical properties, especially the strength and modulus of the polypropylene rope. The amount of fillers and reinforcements can be added up to 50% and even more to the mixture of this plastic. Polypropylene reinforced with talc by 10-40% increases its hardness. Polypropylene can be reinforced up to 40% with glass fibers. This action increases:
Strength and tensile modulus
Flexural strength and tensile modulus
Great reduction in creep
Most of the mechanical properties of PP rope are improved.
But this significantly reduces its impact resistance. This process is realized when a suitable binder is used to create a good and proper adhesion between the glass fibers and the PP.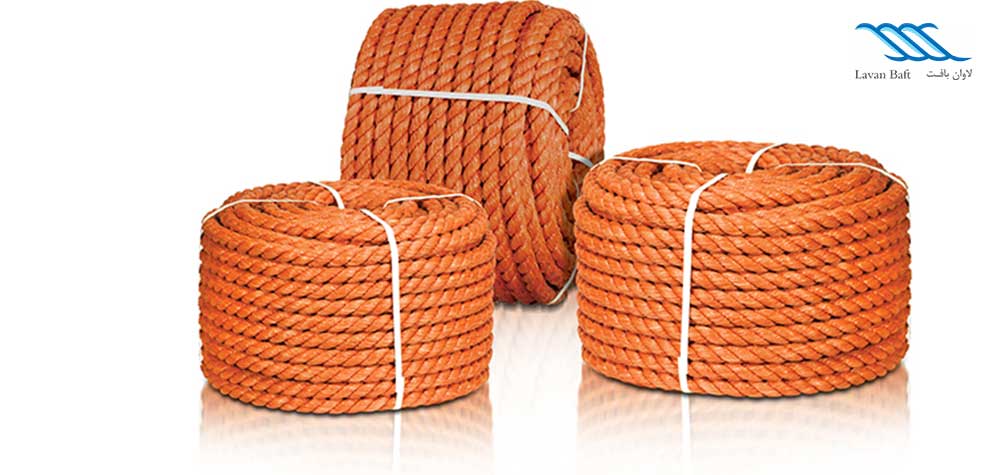 Application of PP rope
You can use this rope for general purposes due to its high strength. Packaging, material storage and any general use you would expect from a rope will be in this product. In addition to general uses, this type of rope is widely used in shipbuilding and shipping industries, agricultural industries, construction industries, drilling, military and especially fishing industries. PP ropes are drier than polyethylene materials (which are directly used to make fishing ropes), so they are used to tie fishing nets together. Another use of them is in the construction of ship anchors because they have a long life and quality and are also very economical to use. Fortunately, this rope is safe from problems such as peeling, corrosion or fading, and you can safely use it for your needs.
"Polypropylene rope is one of those best-selling ropes that are widely used in the industry. Because the material of this rope is produced in such a way that it can be used for certain tasks. The price of P.P rope is suitable for its use. PP (polypropylene) rope is also known as marine rope and fishing rope.
The price of PP rope
Several factors, including the quality of the raw material used to produce the product, etc., have an effect on the price of polypropylene rope. The dependence of the price of raw materials on the exchange rate has caused changes in the price of raw materials, and for this reason, it is not possible to insert the price on the site. Please contact the numbers on this page to inquire about the price of polypropylene ropes.
Buy polypropylene rope (PP rope)
To get polypropylene rope, you can contact our collection so that our experts can accurately identify your needs and guide you to buy. Our collection has the possibility to produce the product you need in a customized way with any color and technical specifications. Lavan Baft Collection also produces standard orders; It means that the twist of the rope is within the standard limit, that is, in one meter of rope, the standard number of twists is observed. Also, the products are packaged well and carefully, and there are labels and complete product descriptions on each package. To order and buy PP rope, call 00982188040765 and 00982188219612.